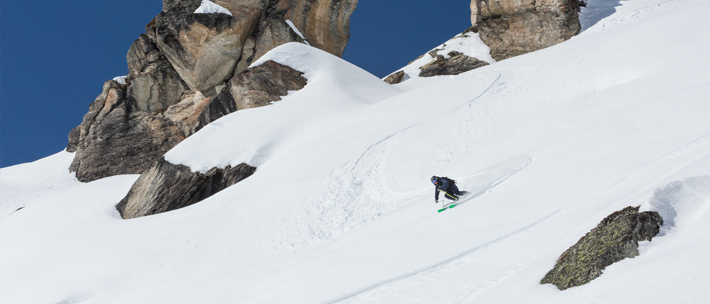 It's time to take your technique to the next level
We offer a range of group camps over the winter as well as private off piste ski lessons.
So whatever you're looking for you'll fine the perfect way to take your skiing to the next level here.
Performance Camps
Whether you want to conquer bump skiing, crack carving, learn off-piste techniques or raise your level across every area of your skiing, our performance ski clinics allow you to learn and improve with people who share your focus.
Our team of coaches have years of experience coaching at this level and understand what it takes to unlock the potential of each individual skier. Plus when you ski with people at the same level you can help push and encourage each other so everyone gets better results.
We have scheduled performance clinics and can also arrange bespoke clinics if a group of you want coaching together.
300 chf
TWO DAYS OF OFF-PISTE COACHING
AVALANCHE SAFETY TRAINING
MAXIMUM OF SIX IN A GROUP
RUN BY JAKE
FEB 20 - 24
OFF-PISTE CAMP
700 chf
FIVE DAYS OF OFF-PISTE COACHING
AVALANCHE SAFETY TRAINING
MAXIMUM OF SIX IN A GROUP
RUN BY JAKE
MARCH 4 - 5
OFF-PISTE CAMP
300 chf
TWO DAYS OF OFF-PISTE COACHING
AVALANCHE SAFETY TRAINING
MAXIMUM OF SIX IN A GROUP
RUN BY JAKE
OUR OFF-PISTE LEVELS:
Introduction:
You're comfortable on all pistes and can deal with moguls and ice without problems. You are new to skiing off-piste or maybe have dabbled just off the sides of the piste. Your aim to to ski cruisey off-piste powder snow with confidence and link turns off-piste in different terrain.

Intermediate:
You have at least a couple of weeks off piste skiing under your belt and have received previous instruction on skiing off-piste. You can link turns together in a variety of terrain with control and confidence. You would like to improve your skiing in deep powder, heavy crusty snow in uneven terrain and trees, as well as tackling steeper more challenging terrain.
---
Private off-piste lessons
Off piste is the Holy Grail of skiing – leaving the marked trails and exploring the mountain. But the technique to get you down the slope and the skills to keep you safe are vital. And trickier than you might think…
Verbier is famous for it's terrain and we have some of the best lift-accessed off piste skiing in the world. From well known runs off piste descents to secret powder stashes, we can help you explore even more of the mountain.
So we run off piste lessons that can introduce novices to off-piste as well as take the experienced skier to terrain where they can test their technique to the limit.

---
PEAK SEASON*
585 chf
LOW SEASON
555 chf
PEAK SEASON*
330 chf
LOW SEASON
300 chf
PEAK SEASON*
400 chf
LOW SEASON
370 chf
* Peak season dates 2016 – 2017
Christmas New Year: 18th December – 2nd January
Half term: 12th – 26th Feb
Easter: 3rd – 21st April
Afternoon discounts:
We sometimes offer a 10% discount on afternoon lessons – just ask when you get in touch
Need some advice?
If you're not sure which private ski lessons or ski clinic is right for you or your family just get in touch – we'd be very happy to chat about your options and make sure you get the best possible combination of lessons.
---
OUR SKI LESSONS AND COACHING: