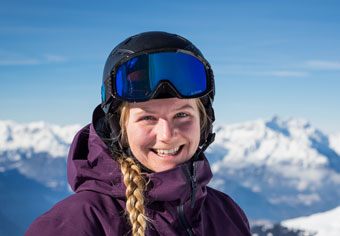 Meet Yas:
Yasmin comes from (in her own words) "the middle of nowhere" in the Highlands of Scotland, so it's no surprise she loves the outdoors.
But in the winters she has made Verbier home and has been training and teaching here for years. When she's not teaching you'll always find Yas up working on her technique and sharing ideas with her colleagues.
When she's back in Scotland she loves to go running in the hills and even swimming in the icy waters that fuel the local distillery. In the summers works on yachts doing summer seasons in Greece and Scotland with her boyfriend Murray. But now they've launched their own sailing business – so definitely someone to chat to on the chairlift if you love boats as much as you love skiing.
She's also studying to be a Personal Trainer, and as well as skiing, fitness and sailing she loves cooking and nutrition in general so she spends a lot of time cooking for guests on the boat or in lodges around Scotland.
Qualifications:

BASI Level 3 ISIA
BASI Race Coach
BASI Level 2 Adaptive
Age:

22
SEASONS TEACHING:

5