Verbier Women's Camps
We know that women learn differently from men and by creating a women-only group we can focus on the psychological and physical areas specific to female skiers, and take your technique to the next level.
From now on "skiing like a girl" is a compliment…
Week-long and weekend camps:
We're running weekend camps and week-long camps all winter and most camps will have three levels. So you can push your skiing onto red runs and black runs if you're more intermediate, or learn to tackle bumps and itineraries if you're more advanced. And experts can really learn how to conquer the off-piste…
It's coaching in a small all-female group with Emma and her team, for either two full days or five full days with off-snow activities too.
Our performance camps will develop technique in all areas of the mountain, both on-piste in carving and short turns, and off-piste in variable conditions, powder and bumps.
Places are limited so if you think this might be up your street just get in touch.
WOMEN'S PERFORMANCE CAMPS 2018/19
WEEK-LONG CAMPS:
750 chf
14th – 18th Jan
4th – 8th Feb
18th – 22nd March
Week-long Programme:
Camps run from 9.30am – 3.30pm each day
Sunday @ 6pm: Welcome & Biomechanics session
Monday & Wednesday: Video analysis session
Tuesday @ 3.30pm: Sports Psychology session
WEEKEND CAMPS:
350 chf
15th & 16th Dec
26th & 27th Jan
2nd & 3rd March
6th & 7th April
Weekend Programme:
Camps run from 9.30am – 3.30pm each day
Friday @ 6pm: Welcome & Biomechanics session
Saturday: Video analysis session
Plus @ 3.30pm: Sports Psychology session
WHAT'S AN AVERAGE DAY LIKE?
9.30am
MEET AT LIFTS
9.30am – 12.00 pm
COACHING
12 – 1pm
LUNCH
1 – 3.30pm
COACHING
3.30
FINISH (OR VIDEO ANALYSIS)
YOUR COURSE INCLUDES:
MAXIMUM OF 8 IN THE GROUP
FIVE HOURS ON SNOW PER DAY
COACHING FROM OUR TEAM OF EXPERTS
VIDEO ON A MEMORY STICK TO TAKE AWAY
PLUS A GIFT BAG FROM OUR SPONSOR MONS ROYALE
OUR LEVELS
INTERMEDIATE:
You're comfortable on blue and red runs and want to ski steeper pistes and aim to tackle black runs.
ADVANCED:
You're comfortable on all pistes and want to develop your short turns and carving, as well as try easy moguls and cruisey off-piste.
EXPERT:
You're an all-mountain skier and you've dabbled in bumps, itineraries and off-piste. You're ready to develop your technical skiing on-piste and master more challenging terrain off-piste and in the bumps.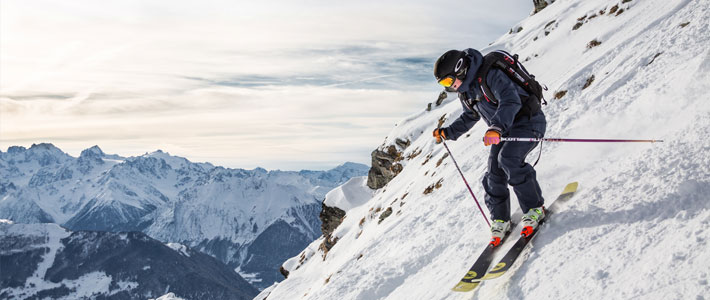 Accommodation suggestions:
We recommend a few accommodation partners in resort, so click here for more information and if you're looking for a advice please just get in touch.

THE COACHES
We've put together a team of some of the best female ski coaches in the alps to run the Women's Camps, so you can be sure you're going to get the best possible coaching when you come to ski in Verbier.
"I connect almost everything that I learn in life back to skiing in one-way or another. Skiing has provided an environment where I can immediately apply things that I learn. Skiing gave me a place to practice my work ethic, motivation, confidence, and the more I have skied, the more those qualities transferred into the rest of my life. Be learning to be confident in my skiing, I learnt to have confidence in myself, my body, my mind, my family, and everything else around me."

Mikaela Shiffrin, World Cup & Olympic Champion

OUR SKI LESSONS AND COACHING: