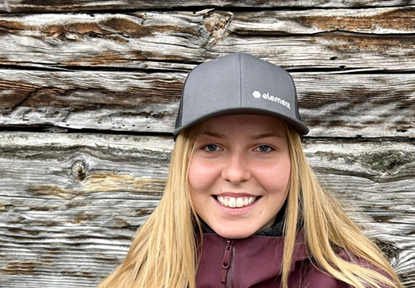 ---
MEET LAURA
---
Laura has always had a great love of skiing and she has also fallen in love with the winters in Verbier.
The first thing you notice about Laura is she is always smiling! Whether she's free-skiing, teaching or just out and about in town she always seems to be grinning from ear-to-ear…
With clients Laura has a great understanding of technical concepts and loves to teach, always adapting her lessons to suite to each individual.
During summer Laura lives in her home country, Denmark, where she works as a waitress and in a kindergarten.
But when Laura isn't skiing or working, she loves to play soccer and has coached youth level players too. But she also loves to spend summertime traveling around the world with her backpack.
---
QUALIFICATIONS:

BASI Level 2
AGE:

23
SEASONS TEACHING:

3
LANGUAGES:
---
---
SOME LOCAL KNOWLEDGE:
WHAT'S YOUR FAVOURITE MOUNTAIN RESTAURANT?
"Because of my love for the Italian cuisine I must go with Dahu. I would say that they make the best pizzas in Verbier. Besides from the great menu they also have a big terrace with an awesome view where the sun almost always shines. Last but not least Dahu is easy to access without skiing, so it is possible for every family member to meet up there."
WHAT'S YOUR FAVOURITE SKI AREA?
"I love the red slope going down from Gentianes. It takes a while to get up there but it is truly worth it. You get a fantastic view and a very long route down to La Chaux. The slope is very versatile as it contains both steeps in the beginning, a flatter piece where you can get some carving going and then the last part where you can relax and enjoy the view as you go."
WHERE'S YOUR FAVOURITE PLACE FOR APRES?
"If the sun is shining I love to go to Lumi's terrace, which is located right next to the bottom of Medran. Lumi has a wonderful atmosphere and if it gets cold, you can always move inside where, if you're lucky, there will be live music. For the evenings or on cold snowy days, then the Pub Mont Fort is always a hit – with ski instructors, holiday-makers and locals all meeting up for a drink or two."
WHAT'S YOUR BEST TIP FOR A HOLIDAY IN VERBIER?
"My best tip is to explore all of the 4 valleys – there are so many great slopes and restaurants. I would also really recommend to book a ski instructor, both to progress your skiing but also to get a lot of local tips and discover the routes you maybe wouldn't have discovered on your own."
---