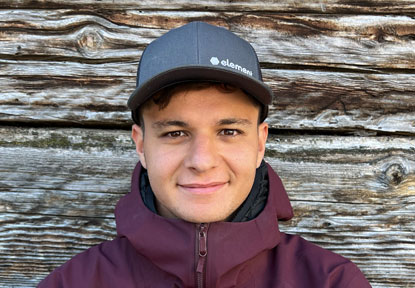 ---
MEET NOAH
---
Noah was born to American parents but they moved to Antwerp in Belgium before he was born. Coming from one country, but born and raised in another, and now living happily in Switzerland, you could say Noah is a third culture kid. 
He went to university in Rotterdam, getting his Bachelors/Masters degree in Media and Business Communication. What does one do after achieving this? Leave the big city and become a ski instructor in Verbier – qualifying on a Peak Leaders ski instructor training course.
He much prefers the view from his current office than the university library. 
Noah has fallen in love with life as a ski instructor, spending time with a variety of clients in an environment he enjoys – it's safe to say he is in his element. 
---
QUALIFICATIONS:

BASI Level 2
AGE:

25
SEASONS TEACHING:

4
LANGUAGES:
---
---
SOME LOCAL KNOWLEDGE:
WHAT'S YOUR FAVOURITE MOUNTAIN RESTAURANT?
"My favorite on mountain restaurant is Le Dahu in La Chaux. The inner child in me says this because they absolutely have the best pizza in Verbier… But it's easily accessible for skiers of all levels, as well as the stunning views in the outdoor seating area and great food (not just pizza!)."
WHAT'S YOUR FAVOURITE SKI AREA?
"Unfortunately for me, my favorite run in the resort happens to be the single furthest one away from Verbier, over in Thyon (roughly an hour ski journey). It's a longer black run called Piste de l'Ours that's perfect for pushing your boundaries speed wise. You're also so far away from Verbier that the scenery is completely different. I love the trip – for me it feels like I've travelled a long way from home when I'm there, even though I'm still in the same ski area."
WHERE'S YOUR FAVOURITE PLACE FOR APRES?
"I would split this answer into two sections, my favorite on-mountain après, and favorite spot in town.
On the mountain Ice Cube (just below Ruinette) has amazing views and energy. If you manage to catch a sunset there, you won't regret it.
In town, Le Rouge is my go to. You can ski directly there, and the party atmosphere is alive and well. Thankfully its right next to the bus stop, because we wouldn't advise going skiing again after a visit to Le Rouge 😊."
WHAT'S YOUR BEST TIP FOR A HOLIDAY IN VERBIER?
"My best tip for coming on holiday to Verbier is to stay for at least 5 days. The ski area is so huge you need to spend one day exploring each section and what it has to offer. Make use of the 4 Valley ski pass!"
---