HOW DO YOU START SKIING OFF-PISTE?
---
Verbier is the holy grail for free-ride.
So lots of people are very keen to make the transition off the pistes and into the incredible backcountry terrain when they come to resort.
The off-piste experience is so special and so unique, one that takes you away from the busy crowds to more magical and remote surroundings.
It feels like you are at one with nature as you can experience the epic sensation of skiing powder in the heart of the mountains.
We have written this article to go though what to expect and how you can decide if you're ready to start skiing off-piste.
Naturally it's a big decision and any off-piste should only be approached with a qualified and experienced ski instructor – as well as being a lot of fun, off piste skiing carries with it significant risks.
---
SO HOW CAN WE MAKE THE SWITCH?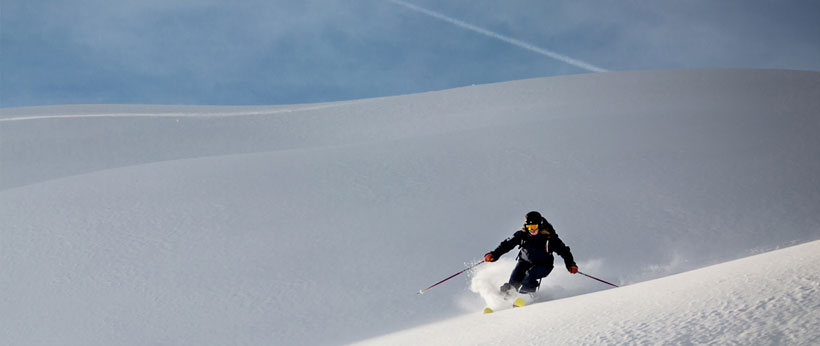 Skiing in the backcountry should always be approached with knowledge and respect.
It is a big unknown – a vast area which is unpatrolled and a lot of it untouched.
The best way to make the transition is to consider three big factors.
Firstly have you got the right equipment to make a move into the off-piste terrain?
Secondly are you fit enough – it's hard physical work even with the right kit.
Thirdly are you technically ready to head away from the piste markers?
Plus you need to factor in the snow condition and your choice of terrain.
So, here are a few important tips to help maximise your experience in the backcountry and have one of the best days in the mountains …
---
EQUIPMENT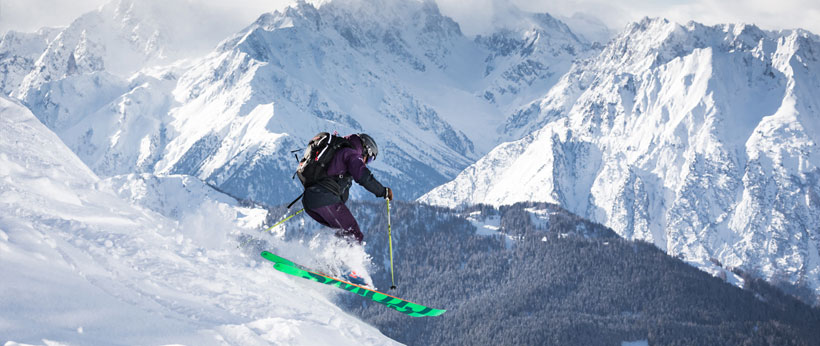 It is true: the right equipment makes a huge difference in skiing, especially off-piste skiing.
If you can experience the day on a wider pair of skis it's going to make it easier and definitely more enjoyable.
Wider skis float much more easily on top of powder and are generally softer than piste skis.
Ideally you should go for a ski with at least a 95mm "under foot" if you are skiing powder.
If the snow is more variable, perhaps windblown and variable, then slightly narrower can be a great compromise.
This will massively help you create those epic arcs in the snow. It always handy to get advice on the best skis for that particular day and the snow conditions.
The other essential equipment for skiing off-piste is an avalanche search equipment.
The absolute minimum is:
A transceiver
A shovel
A probe
Plus a backpack to put it all in
Of course knowing how to use it all is absolutely key to going off-piste – otherwise there is no point in having it!
But your off-piste instructor will always teach you how to use this (or give you a refresher if you've used it before), because everyone should always be prepared and have practiced using this vital equipment.
You can also opt to take an 'airbag' backpack. This is a bag that has large inflatable compartments that you can activate by pulling a handle.
The benefit is that, if the worst happens and you are in an avalanche, you can pull the handle and the compartments rapidly inflate to help you stay in top top layer of snow so you won't sink down into the depths of the avalanche and be buried.
Plus they protect your head from impacts from rocks or debris in the avalanche.
Airbags aren't mandatory, but they're certainly a good safety decision.
It's also always great to have a snack in your backpack in case your energy levels dip, plus water – you lose a lot of fluids when you're at altitude and working hard.
---
FITNESS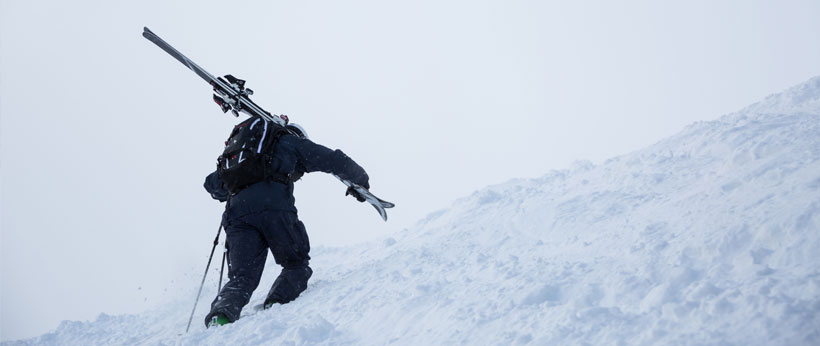 It is super important to have good base fitness and strength – particularly in your core and legs.
This means you can deal with the demands of skiing on an inconsistent and unpredictable surface, making constant adjustments as you ski and reacting to changes in snow and terrain.
If you lack a strong core this type of terrain can easily throw you around or make it virtually impossible to ski and create arcs.
If you only ski for one or two weeks a year, then make sure you are fit and ready to ski off-piste, even if you are an expert skier, as it will make the world of difference!
So doing some good training before your course is important – think about anaerobic work outs and core strength exercises.
It's always a balance between your technical level and your fitness.
Naturally, if you want to keep pushing yourself further and further then you will always need to have a high level of fitness.
But as you become more technical capable and versatile (see below) and when the conditions are right, you can ski efficiently and still ski off-piste without such high physical intensity.
One thing I for sure though, most people find off-piste skiing for the first time a really tiring experience. So if you're about to make your first turns off-piste you need to be fit beforehand and ready to feel shattered afterwards…
---
TECHNIQUE
The skiing techniques that you require off-piste are built on accurate and effective skills that you already use on-piste.
However, any bad habits or lazy technique will be highlighted straight away when put into the off-piste or more challenging conditions.
So, it's always helpful to get some lessons to brush up on technique leading up to adventuring into the backcountry. We quite regularly use on-piste exercises to help skiers prepare for off-piste or to fix issues that are holding them back.
In fact, if you have a technical change to make, it usually simply isn't possible once you leave the groomed slopes so you need to practice the movements on easy terrain before putting your new technical skills to the test.
The key to being able to enjoy the off-piste is being able to create smooth arcs in a variety of radii in different width corridors.
If your turns are more zigzag this doesn't work as well – and definitely isn't as much fun…
So many different technical inputs will help you to do this. The job of your instructor is to help you understand what's holding you back and introduce changes that will help you to really get the most out of the off-piste environment.
For example being able to keep a strong core (see fitness, above) and remain centred, smoothly turning your skis through the arc, and without getting too much edge through the turn.
Being able to implement the right technique is so reliant on your fitness levels – so you can be in charge of directing your skis where to go more easily.
You must also have good speed control and be able to change direction if necessary to avoid rocks, trees or anything unexpected. That ability to react and change direction is vital and requires a great deal of technical skill.
We all need to remember to respect the backcountry, it's fundamentally an uncontrolled and potentially dangerous environment. So we need to treat it with respect, be ready to make decisions (and change plan) and always listen to the guidance from your coach.
And the truth is you never stop learning. Skiing technique is an ongoing process – it's not about becoming perfect (because nobody is), it's about constantly tweaking, analysing and developing your skills.
Which is precisely why people find off-piste skiing in particular such a challenge. You never stop learning and you are constantly seeking to make the next breakthrough.
---
SNOW CONDITIONS

When you are skiing off-piste you are not always guaranteed a powder day …
But there are lots of other great snow conditions you can have an epic day skiing.
Sure, powder days are unbelievably fun and amazing but you will also find awesome conditions when it's chalky hard pack (great to ski couloirs), or spring snow which has just started to soften (like a slushy layer sitting on the rest of the snow-pack).
These – and many more snow types – can be just as much fun as powder.
At times conditions can be more challenging, especially in certain aspects when you have crust, hard pack, or even ice.
The snow conditions – and the historical snow fall and weather over the winter – can make a massive difference to your route selection. For example one day a certain slope might be safe and great fun, another day it becomes a lethal risk.
The only way to be sure is learn the signs and skills of judging the snow – and to makes red you're in safe hands with an expert.
With the right coaching and technique you can still have an awesome adventure en route to finding the best snow, learning about staying safe all the way.
At Element Ski School we have a team of experienced off-piste coaches who know resort inside out.
So they can help you explore even more of the mountains and find the best snow – so that you always have the best day skiing.
One thing is for sure it will always be an adventure and you are guaranteed a pretty magical day.
---
DON'T TAKE RISKS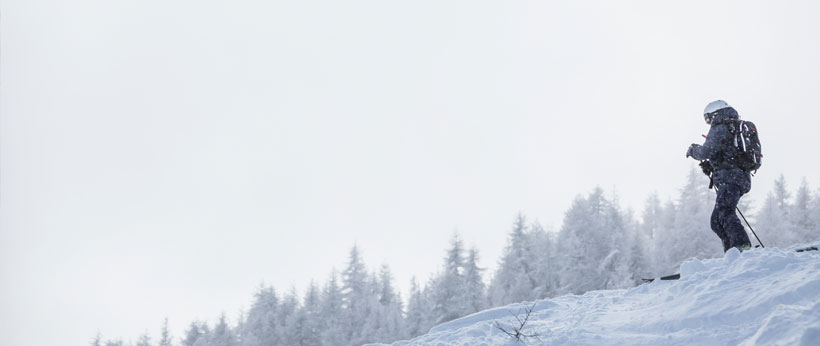 If you are new to skiing off-piste or are keen to venture further afield then the best way to do this and have the ultimate experience is to book an off-piste instructor for the day.
Whilst the untouched powder can be tempting, and sometimes you can see tracks disappearing off away from the pistes and assume they lead somewhere fun…
But you should never head off-piste without knowing exactly where your route will take you. So it's vital you have someone with you who really knows the area and the rules of off-piste.
Verbier is a big area, and the second you pass the piste markers and go off-piste you need to start thinking like a mountaineer – not a recreational skier.
Skiing off-piste can be done in complete safety, but knowing how to do so takes a lot of experience and an in-depth knowledge of routes and conditions.
Which is why it's best to go with a local Brevet Federal (top-qualified ski instructor legally allowed to teach off-piste).
You can't beat local knowledge, while improving ski technique to experience the best snow in the mountains and find those hidden gems!
---
IT'S A LIFETIME OF LEARNING
One of the great things about off-piste skiing is learning about the environment around you as well as learning about the best way to keep your skis under control!
In off-piste ski lessons, not only do you learn the tricks and tips to make sure you're technically ready, but you can also learn a huge amount about avalanche safety, route selection, even map reading and avalanche science if you're really keen!
As you become more accomplished you can venture further afield, and often that means learning about ski touring so you can access more remote parts of the mountain.
Ski touring, for the uninitiated, is when you have special bindings that allow you to hinge around the toe-piece and lift your heel (a little like scores-country skis or telemark skis).
So you lock etc heel down for normal alpine skiing, and when you need to ascend, you release the heel, attach lengths of fabric to the base of the ski called 'skins', and you're ready to walk up hill…
Whatever your level, and no matter what your ambitions, we can help you set out on the road too off-piste and makes sure you get the best possible experience in the mountains.
If you fancy joining us for an adventure, then you can find more information below.
---

How should you prepare to try off-piste skiing?