Published on: July 25, 2020
SO WHAT'S REALLY HAPPENING IN VERBIER?
Just like the rest of the world, here in Verbier we've been dealing with the impact of the the coronavirus pandemic.
Switzerland has been ahead of the curve in many respects. Lockdown was implemented early and well respected – but not nearly as intense or limiting as many other nations.
The communications have been simple and clear, with regular developments explained through simple messaging online and through social media.
But as the Swiss have begun to release lockdown, we are seeing life carry on with a few simple changes and by comparison it's feeling almost normal again here.
So we wanted to update you on what's been happening, about how the lifts are reopening and what you can expect for the coming winter.
Because it's looking like Verbier will be open for business as usual. Well, almost as usual.
---
The Swiss rules today
At the moment there are three key simple rules that will sound pretty familiar. There are also a few additional restrictions that are in place.
1. Social distancing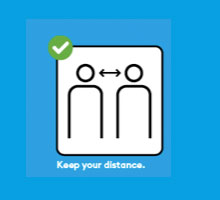 This is currently down to one-point-five meters. We started at 2 meters and the Federal Council reduced it a little while ago.
In fact here in Valais as a point of reference it the 2 meter rule was brilliantly described as the length of a cow between you and someone else. Click here to enjoy it…
(We aren't sure how they will tackle 1.5 meters with the same metaphor.)
2. Face masks on public transport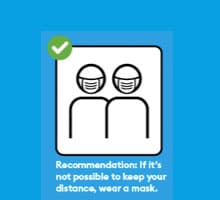 This was made mandatory on Monday July 6th. All adults have to wear a mask but children under 12 are not currently required to wear one.
It's being fairly well respected here in Valais and we gather in big cities is fast becoming the new normal.
As you might already be aware, you feel a little daft at first but it soon becomes familiar and to be honest no different from a face covering when you're skiing on a cold day…
3. Washing and sanitising your hands regularly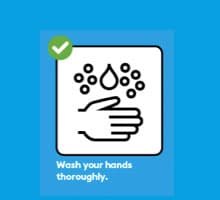 As with many nations there is a huge emphasis on the simple act of washing your hands regularly and sanitising them when asked to do so.
Verbier is certainly full of hand-sanitising stations, as you enter lifts and shops and bars. And it's really become very normal.
An optional national track and trace app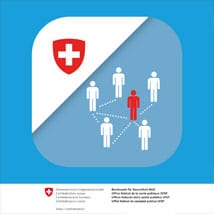 The app has been launched here in Switzerland and about 1.6 million downloads have been made, and these numbers are going up all the time.
As with all these apps we're assured it runs in the background and all connections are anonymous and decentralised. Any data is wiped from your phone after 14 days.
You'll notice that (currently) we aren't wearing face masks in shops or bars – although in some Swiss areas that has been adopted by local authorities, but not here in Valais.
Bars and restaurants are asking for clients to register using an app before entering. But you can always leave your details in writing to fulfil track and trace requirements.
---
Which all means the lifts are open again

We're delighted that the lifts are already running in Verbier. It means that what we're seeing, in a lot of ways, is a dry-run for winter.
The biggest change you'll notice is on the lifts. Once you're inside the lift buildings or in the lifts themselves you must wear a mask. That's because lifts are included in public transport rules.
As with everywhere we are seeing lots of lines taped on the floor to give people reference points for social distancing, but in simple terms the masks are the biggest change you're aware of when you're using the lifts.
And it's certainly not stopping Verbier getting busy over the holidays with mountain bikers and hikers.
To be honest life feels almost like normal.
---
The way things should look come winter
The face mask / face covering requirement is the most notable change this summer – and will no doubt be for winter. It's a simple measure that keeps everyone that bit safer.
But it will certainly be significantly easier to implement in winter as a lot of people already wear neck warmers and snoods that can easily pull up to become a face covering.
We expect social distancing to be tricker in lift queues etc but always mitigated by wearing the masks.
Saas Fee is already testing these measures
Saas Fee are open for summer skiing and their new safety requirements are a window on what to expect. They are making a few changes to lift queue rules and enclosed spaces, but the drag lifts and chair lifts don't require masks.
So it won't be very different from normal really – especially when you factor in that we all ski in GoreTex, goggles and gloves almost all the time.
Social distancing in the bottlenecks
We will have to respect social distancing – especially when we are in enclosed spaces like restaurants, lift queues and in bubble lifts or the Jumbo.
But in any lesson we spend most of the time on the hill over 1.5 meters apart – our skis tend to keep us from getting any closer…
So social distancing when we're skiing or chatting about technique shouldn't be very different – it's just those "bottleneck" environments that will require some changes.
Masks seem a natural, simple solution to this.
Lessons almost as normal
We don't envisage a lesson with Element Ski School feeling hugely different.
Of course face-coverings on the lifts will be strange at first, but when you really think about a ski lesson we are already minimising a lot of risks.
On the hill we're often chatting in a socially distanced way and we already wear eye protection and often face coverings.
So with a few simple modifications we think skiing next winter could be very similar to what we're used to.
And of course, if you want some real social distancing, then we know a few secret off-piste spots that will always deliver…
---
More news soon…

The Swiss Federeal Council is regularly updating the Covid-19 rules and restrictions. So we will be updating the blog as things develop.
Just check back and keep an eye on our social media – we'll add updates as things change and also bring information on any travel restrictions as they are updated.
But for now we hope you are well and we look forward to skiing with you all again very soon.

THE VERBIER COVID SITUATION