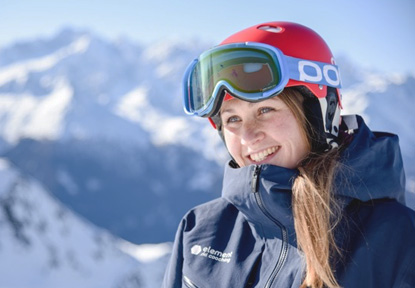 Meet Sophie:
Sophie has been teaching in Verbier for five seasons, and currently spends her days giving clients the technique and tactics to take on Verbier's terrain (as well as chasing around after her daughters Lexi and Abi).
But as well as being a great ski instructor, she's also a pretty nifty swimmer with a love of open water swimming – which saw her swim the English Channel a few years ago and recently swim Lake Geneva with her friend Maddy – they swam in a relay for nearly 31 hours between the two of them.
And she's also the amazing mother of two amazing daughters, Lexi and Abi, who are sure to follow in their amazing mum's footsteps (ski tracks and whatever the word is for tracks when you're swimming).
Qualifications:

BASI Level 3 ISIA
Alpine Development Coach 2
Age:

31
Seasons in Verbier:

8