---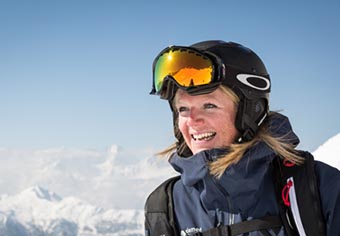 ISIA COACHING:
WHY DOES A BASI TRAINER MAKE SO MUCH DIFFERENCE?
Element coach Emma talks about the benefit of training with the experts when you're aiming at the BASI ISIA exams.

---
The quality of your coaching is a massive factor in taking your skiing to the next level.
It doesn't matter if you are going for exams or just improving your technique, you need really accurate feedback that comes from a deep understanding of what you need to achieve and how to get there.
That's why we have built a team of BASI Trainers that run the Concept ISIA programme. We know that there is simply no substitute for quality and experience when it comes to these exams.
But it's always worth explaining precisely why that makes such a difference.
---
Knowledge of the system and the exams

Training with someone who understands the criteria is absolutely crucial.
On the exam you will only get five days to show you can consistently ski at the level required. So every hour on the hill should be aimed at reaching and surpassing that standard.
The most efficient way to get your skiing to the level that the exam requires is to spend time training with someone who knows precisely where the goalposts are.
When you have a clear target that has been clearly explained, getting there becomes a huge amount easier (but that doesn't mean it's easy…).
---
Clear and accurate feedback

It's tough to become a BASI Trainer. Only the best coaches make it through selection – so they are great communicators with a sharp eye for accurate analysis, delivering clear demos and they have to be brilliant motivators.
Their job is to deliver feedback that is as clear, simple and digestible as possible.
After all we are often dealing with concepts and movement patterns that are only clear to the trained eye. To take these tiny elements, explain how they interact and help you make that change is a tough job.
And these skills translate into training sessions across the season. Not only setting targets and tasks that you understand, but also helping you develop a clear understanding how you need to develop to get there.
A great coach can make complex ideas sound simple.
They can help you understand what you are required to achieve: what it looks like, how it feels and how it works.
---
Different voices can make a big difference.

We usually have four BASI Trainers in the team on the Concept ISIA course.
The training programme is spread over ten weeks and 180 hours through the season – so it's a lot of training. We have found that having a different perspective or a subtle change of explanation can really help unlock your potential.
So by having a lead coach supported by experts who run extra weeks, you can get input from some of the best in the business.
And the results can really exceed your expectations and make sure you achieve your goals.
---
Want to know more?
If you want to chat about the course, the schedule and your goals, then just get in touch.
We'd love to chat about what you want to do and help make a plan to get you to the ISIA standard and beyond.
---
Do better coaches always mean better results?