[one_third_first]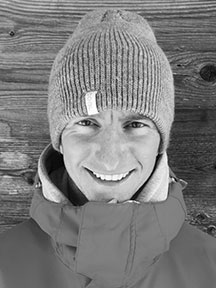 [/one_third_first][two_thirds_last]
Jake is a BASI Level 4 and Swiss Brevet Federal ski instructor – one of our most qualified and experienced instructors.
He's also a qualified Personal Trainer so when you set him a fitness challenge he always has to say yes…
This is the story of how his competitive edge landed him at the start of the Copenhagen Ironman.
[/two_thirds_last]
The Beginning
This all started two years ago.
I was away and my wife Emma was at a friend's having dinner. After a couple of glasses of wine they were talking about skiing and fitness training, so Emma loudly proclaimed 'Of course, Jake is naturally fit…' which was like a red rag to a bull to our friends…
Two minutes later I got a message from someone at the meal – "apparently you're 'naturally fit' – lets do the Chamonix half Ironman".
I was backed into a corner – so I had to rise to this challenge!
I accepted and five months later three friends and I tackled Chamonix's "Mountainous" course.
I enjoyed the training, it was a fun day and that started me thinking…
A year later I mentioned to a friend (in a bar of course) that I thought we should do a full Ironman. He agreed but we didn't do anything about it then. In fact we just ordered another drink.
A couple of months later I got a call – he'd signed up for the Copenhagen Ironman and apparently I should follow suit! So I did. Then I realised, I had actually signed up for this.
What on earth had I done?
Training
[one_half_first]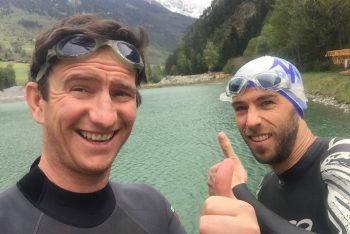 [/one_half_first]
Swim training began in January.
In the winter the chances of me being able to teach skiing and run fitness coaching, socialise, run, bike and swim was too much.
So I decided that I would try and tackle only my weakest discipline – swimming.
I went once a week for the entire season and by the end I was (very slowly) swimming up to 152 lengths (3.8km – the Ironman distance).
Yes, it was in a heated indoor 25m pool and yes, my technique sucked but I had increased my aerobic capacity from struggling with 40 lengths to swimming 152.
With any event, whether it's a 5km running race or an Ironman it's imperative to have a training plan. I didn't use a specific Ironman coach, and I don't think you have to, but I do think that if you're aiming to improve your performance a coach is always an excellent idea.
From my previous event experience I thought I knew enough. In fact, I didn't know nearly enough but by a combination of trial and error training, asking advice from lots of expert friends and researching Triathlon/Ironman articles on the internet I built up a solid base of knowledge.
I started full training from the end of March. I kept a training diary and looking back at the early weeks now they seem pretty low on frequency of training and intensity.
But May to August was intense, I upped my training from 7hrs a week to a maximum of 14hrs a week and I worked on my open water swim technique, cycling set up, nutrition and running at altitude to further improve my fitness. I researched the courses for the Ironman and tried to mimic their profile in terms of height gained and distance.
Over the next few months I slowly increased the bike and run distances I attempted, to peak at a maximum of three quarters of the full distances.
I also utilised brick training. This is when you choose two of the three disciplines – for example swimming and then cycling – and then put them together. Going from swimming horizontally, without excessive leg movements, to vertical on the bike, which is largely reliant on your leg muscles, can be a shock. Equally the change from the bike to the run can make you unsteady underfoot.
I practiced the brick protocol frequently and I tried to design my training around the course that I was going to take on.
Practice


With two weeks to go the three of us doing the Ironman event decided to do a 'mock' – the Nyon Olympic Triathlon. The distances were shorter (1.5km swim, 40km bike, 10km run) however we were hoping this would provide us with some useful practice and information.
The event was excellent, a fun day out and a 'mock' was the perfect thing to do just before the real event to get into the right mindset and learn from any mistakes. And there were a few!
Race day was just around the corner and the final week was spent tapering – not doing much training and stocking up on energy reserves via more carbohydrate focused meals.
Did I feel nervous about the race?
Sort of, in fact yes definitely, but the main thing worrying me up to race day was the logistics of getting to the airport on time and getting my bike to Copenhagen.
Once I was in my hotel I actually relaxed a bit more, but there was still loads to do in terms of re-building my bike, race registration, briefing and bike parking. I needed to make sure I slept well, ate well and rested as much as possible.
Then all I had to do was the race…
Jake's Ironman – Part one: Training