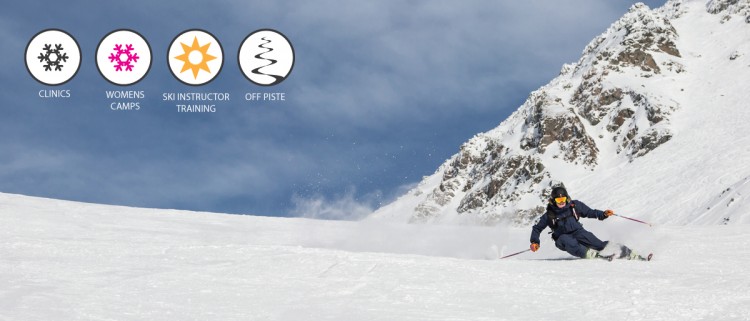 Verbier Performance Camps
At Element Ski School we offer a combination of three types of lesson: Private lessons, Ski Instructor Training and our Performance Camps.
Our Performance Camps run for either a week or a weekend, and are focused on helping advanced skiers take their technique forward: covering the psychology, the movements and the technical concepts around high-end skiing.
In addition our Women's Camps take that technical focus into women-only groups, helping adapt these concepts to female psychology and physiology.
Finally we're running an off-piste refresher for Ski Instructors – ideal preparation for The Basi Level 4 European Mountain safety. Minimum requirement is ISIA instructor license or above.
So if you're interested in taking your skiing to the next level, get in touch…
[gpp_divider type="solid" color="grey"] [one_half_first][gpp_pricing color="green" plan="PERFORMANCE CAMP" cost="29 FEB-4 MARCH" per="5 DAY CAMP" button_url="https://www.elementconcept.com/ski-lessons-and-coaching/verbier-performance-ski-clinics/" button_text="MORE INFO" button_color="green" button_target="self"]
FULL WEEK OF COACHING
5 x 5 HOUR SESSIONS
RUN BY JAKE:
BASI 4 & BREVET FEDERAL
625 CHF PER PERSON
[/gpp_pricing] [/one_half_first]
[gpp_pricing color="red" plan="OFF PISTE TRAINING" cost="12-13 MARCH" per="2 DAY COURSE" button_url="https://www.elementconcept.com/ski-lessons-and-coaching/ski-instructor-courses-verbier-saas-fee/ski-instructor-training/" button_text="MORE INFO" button_color="red" button_target="self"]
WEEKEND COURSE
2 x ALL DAY SESSIONS
WITH A UIAGM MOUNTAIN GUIDE
SKI INSTRUCTORS ONLY
200 CHF PER PERSON
[/gpp_pricing]
[gpp_divider type="solid" color="grey"] [one_half_first][gpp_pricing color="pink" plan="WOMEN'S CAMP" cost="14-18 MARCH" per="5 DAY CAMP" button_url="https://www.elementconcept.com/ski-lessons-and-coaching/womens-ski-camps/" button_text="MORE INFO" button_color="pink" button_target="self"]
FULL WEEK OF COACHING
5 x 5 HOUR SESSIONS
RUN BY EMMA:
BASI TRAINER, BASI 4 & BREVET FEDERAL
625 CHF PER PERSON
[/gpp_pricing][/one_half_first]
[gpp_pricing color="green" plan="FREERIDE CAMP" cost="21-25 MARCH" per="5 DAY CAMP" button_url="https://www.elementconcept.com/ski-lessons-and-coaching/verbier-performance-ski-clinics/" button_text="MORE INFO" button_color="green" button_target="self"]
FULL WEEK OF COACHING
5 x 6 HOUR SESSIONS
RUN BY JAKE:
BASI 4 & BREVET FEDERAL
750 CHF PER PERSON
[/gpp_pricing]
[gpp_divider type="solid" color="grey"]
Take your skiing to the next level