Qualifications: How on earth does it all work?
Good question. You wouldn't be alone if you looked at all the ski instructor qualifications out there and wondered what on earth all lists of letters and number mean: BASI, ISIA, IASI, NZSIA…
Essentially a huge number of countries have ski instructor qualifications. Most of them have different levels and whilst everyone always argues about which one's best, there are some ways to work out if your ski instructor has the equivalent of a degree in skiing – or something lower.
But before we get started I have one caveat – whatever way we try to explain how all the systems stack up against each other, there will be exception and complications and no doubt someone will tell me off for not getting their structure quite right, so let's keep it simple and look at the general picture…
Levels:
Almost all systems have levels. The British and Canadians have 4, the Swiss have 3, curiously the French only have one. But the main point is for everyone (except France) there's a low qualification, a top qualification, and some in the middle.
It takes time to progress through the levels and as the exams get longer and more specific, the commitment taken to qualify goes up and up. To give you an idea the BASI (British) Level 3 qualification has:
A week-long technical exam
A week-long teaching exam
A week-long off-piste exam
A week-long race coaching exam
A week-long second discipline exam (for example snowboarding)
A language exam
And you need to have done 200 hours teaching before you start it all
And before any exam you have to have done a load of training, so to get the BASI Level 3 (and any other similar exam) can take years.
Then – again just using the British system as an example – to get to the final level requires weeks, possibly several seasons training and then a race test which, frankly, some people never get because it's really, really hard.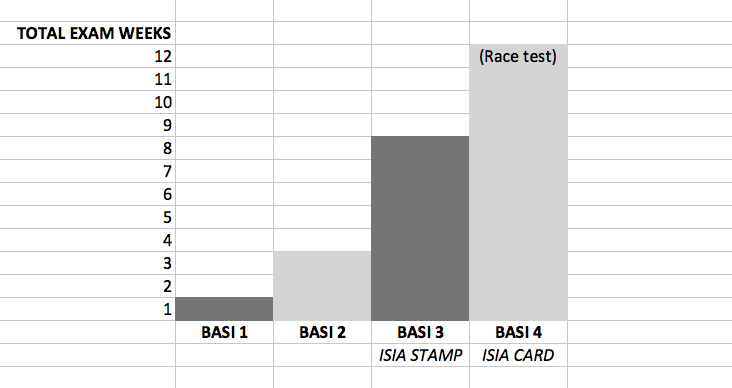 International recognition:

More important than how many levels a system has, is how those levels are viewed internationally.
Luckily there is a body called the ISIA (International Ski Instructor Association) that sets standards for qualifications to meet. It's like an independent association that looks at qualifications from all over the world and tries to make sure there are mutual standards.
And they have two main levels:
If you are pretty close to the top you get an ISIA Stamp (this is the BASI 3).
If you are fully qualified you get an ISIA Card (this is the BASI 4 or Swiss Brevet Federal).
To get either requires years of training and a lot of work, not to mention a big financial commitment.
Where does that leave Element?
Well, we think that to get through any system takes a lot of work, skill, talent and commitment. So when we started the ski school we decided we would only work with instructors who had shown all of that and achieved some pretty high qualifications.
For us that meant the minimum would be the ISIA Stamp. Which is a really tough bar to get over, and as a result we've said "no" to a huge number of instructors who simply hadn't quite made the grade.
Beyond that over half of the Element team are now fully qualified and holding the ISIA Card. It just shows that having climbed one mountain we've chosen to work with some great instructors who are always looking for their next challenge.
And then what?
After all that you might have thought that any ski instructor was entitled to relax, but there is a final challenge – becoming an examiner.
It's a challenge where only a few succeed – whether it's the Swiss Snowsport "Experts" or the BASI "Trainers". But these are really the very best coaches in their system, responsible for training and examining instructors working their way up.
We are very lucky to have one of the few female examiners in the British system as a founder of Element Ski School – Emma Cairns.
But if all this has just made you more interested in skiing qualifications, you might want to check out our partners at Peak Leaders who train instructors to the Level 1 and Level 2 standard.
Otherwise thanks for reading and I hope this helps you understand the professional levels of instructors, and just why we think our team is one of the best in town.

What are the different ski instructor qualifications?