It's been a great six weeks of training up on the Saas Fee glacier, and the Peak Leaders trainees have been busy making changes to their technical skiing, teaching and working on off-snow fitness.
Skiing on the glacier is very different from heading to the slopes in Verbier and it's meant a lot of early starts. We start the day queuing for the Alpine Express – usually alongside national team racers and loads of very noisy kids in race teams! It is an amazingly professional environment to train and learn in.
The beginning…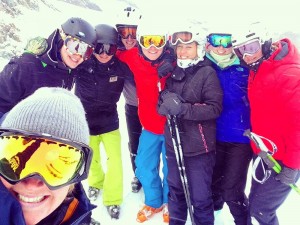 In early October we had a decent snowfall, which allowed the trainees to rip up some powder much earlier than usual. This also resulted in the opening of the mountain down to the mid-station called Morenia. Due to this there have been more restaurants open on the mountain, leading to some division between the groups of where the best late-morning snacks on the mountain are offered! Jake firmly believes the salad bar at the Morenia restaurant is the best thing ever, but Emma says the cranberry and white chocolate cookies in the Allalin revolving restaurant are clear winners.
Perfect conditions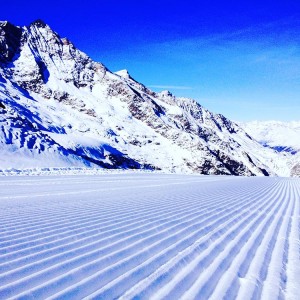 This Peak Leaders course may be the luckiest group to have trained on the glacier in the autumn. Apart from the first two weeks of unpredictable weather, resulting in a couple of closed days, they have had bright blue skies, beaming sun, and empty perfectly groomed pistes. Wherever they continue to spend the rest of their winter this will be hard to beat … the perfect training environment! Although we are looking forward to more snow coming soon…
There is a lot to cover so we've had a lot of skiing to do – the Basi Level 1 and 2 require everything from snowplough to freestyle: so there are short turns, long turns, off-piste, steeps, central theme and the park to cover in everyone's personal skiing – plus the trainees have to learn how to teach it all too.
You can't hide in the gates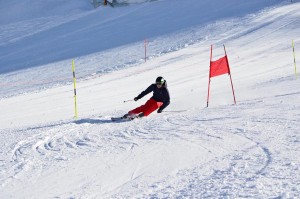 Without a doubt their favourite day was race training, where they tested out their carving skills and competitively hurtled down the GS course.
Over the weeks we've seen some massive changes, and more recently we've seen some even more impressive falls (and recoveries) as everyone starts to push themselves more with the exams approaching. Jake has even been showing people the correct technique for falling over whilst videoing his group. (Emma maintains she never falls over).
Change isn't as easy as you think it's going to be…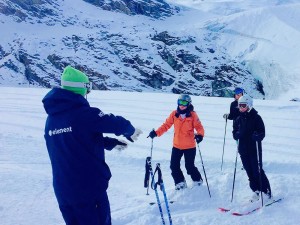 So now we're in the last training week before the exam everyone has their own action plan so they can focus on making the final tweaks before D Day.
It's not easy to change your skiing so it's been a tough couple of months – psychologically as much as physically. In fact probably the biggest thing that trainees learn from these courses is to analyse their skiing in a way they've never needed to before – how you make a plough turn or what your body position is when you're skiing bumps. There's a lot to think about!
Ready for the exam
And the trainees have learnt that it's not all about speed and carving – the slow speed movements can be far, far tougher to master. And if everyone's looking too comfortable Emma can send you off for a few runs of one-ski-skiing – although they have now grown to love this challenge (at the beginning? Not so much…).
The Peak Leaders trainees have realized that the more you master a sport or anything, the more there is to learn and keep progressing!
What's next? Your turn?
The Saas Fee trainees embark on the beginning of their BASI Level 2 exam on Monday, which sadly means the training with Jake and Emma will come to an end on Friday. They'll be returning to Verbier to prepare for the next batch of Peak Leaders trainees starting over there on 29th November.
So if anyone is thinking they need a change of career or haven't sorted their GAP year plans … then you could be a part of this awesome Peak Leaders instructor training course in Verbier!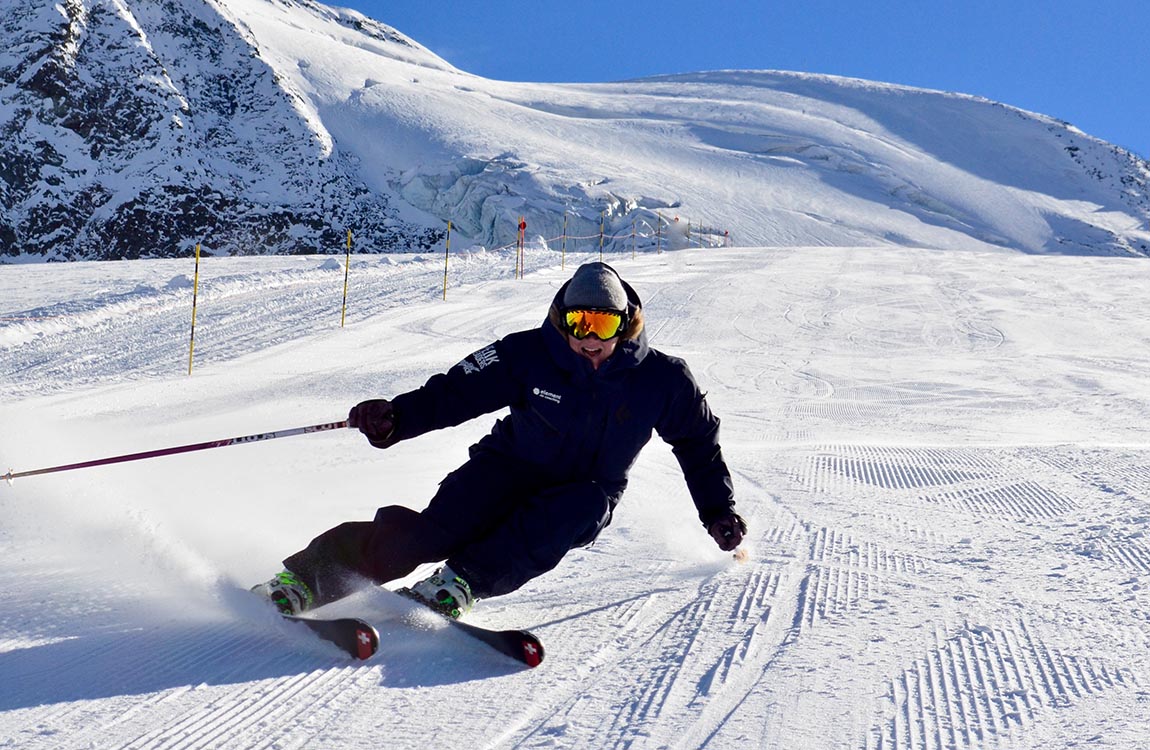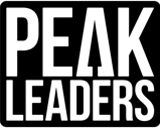 Peak Leaders: The Story So Far