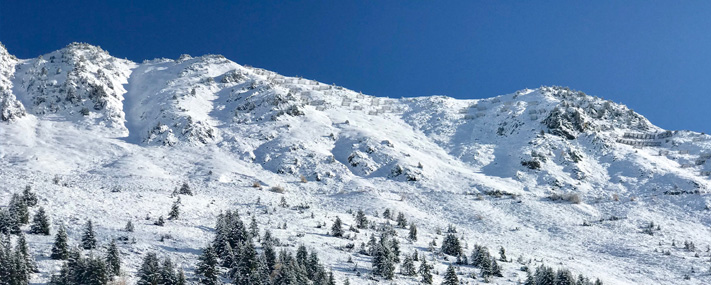 Every year we fixate on the first snow.
There are two targets: opening on weekends in November and opening full-time from the first weekend in December.
The key date is the full opening – because as fun as the tracks of the year are, it's almost always La des Vaux and often on a huge amount of artificial snow.
But, to be honest, when the snow comes really early it rarely stays. The temperature swings up and down a huge amount in the autumn and just because you have snow in September doesn't mean much, really.
This year the first snow is right on time…
But we all love that first heavy fall. And we have certainly been watching the skies waiting for the snow to hit.
This year we didn't have that random early snowfall that gets us all excited – we've just had quite a lot of sun and occasionally rain.
But when you're aiming to have a ski resort up and running in December, a heavy fall at the start of November seems pretty perfect timing.
What did we get?
Well, Emma was up above Verbier with Indie this morning and there's snow well below the treeline – stopping just above Carrefour.
And up at Atlas they are claiming 40cm has fallen over the weekend and last night.
The next 48 hours are forecast to be freezing and clear, then a huge dump of snow coming this weekend.
In fact it's due to snow right down to resort with rumours on the long-range forecasts of 40cm plus coming in Verbier – never mind up high.
All of a sudden it feels like all systems go, and with nearly a month to go until we expect to ski in earnest here in Verbier, we can safely say the winter is off to a cracking start.
---
---
THE NEXT 48 HOURS

LONG RANGE

---
---
MEANWHILE ON OUR FACEBOOK PAGE:
---
Snow has arrived in Verbier (in style)