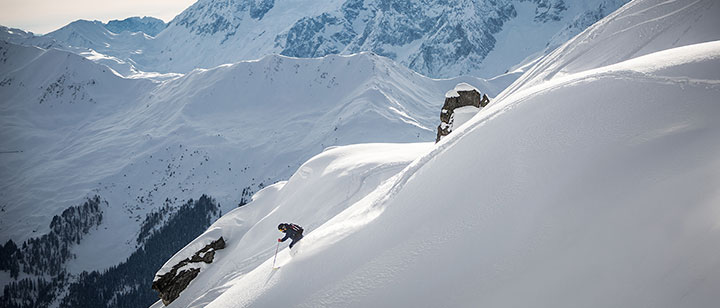 Let's talk about powder…
This winter the off-piste skiing has been amazing and with the insane amount of snow we've had, it's set to stay good through March and into April.
So of course, everyone wants to ski fresh, untracked snow – ideally with absolutely nobody else around (apart from your nearest and dearest and some good friends…).
So the obvious answer is to go heli-skiing.
You just hop into a helicopter and go and find the best snow miles away from all the humans.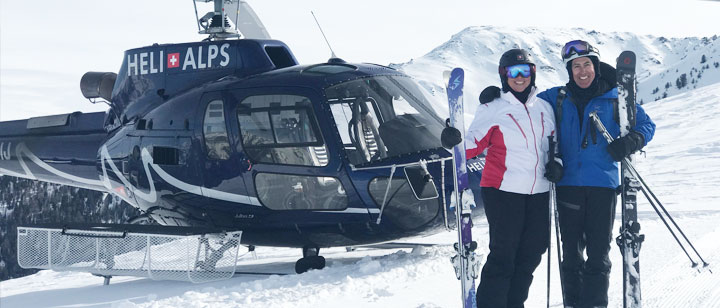 There's only one snag: it's a bit on the expensive side
So why not try ski-touring?
OK, it's a bit more tiring than using an aircraft to take you to the top but some would argue it's considerably more rewarding.
So what exactly is ski touring?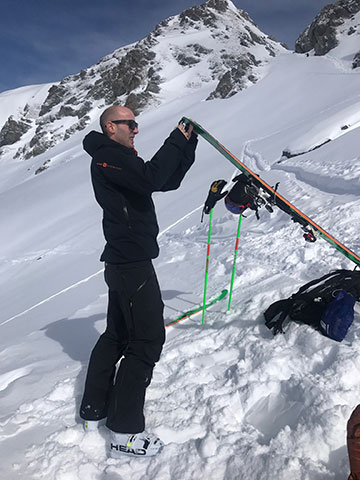 If you've heard the term but never really understood how it works, this bit is probably for you. And if you've never heard the term, this bit is definitely for you…
Ski touring uses a specially designed binding that allows the heal part of the binding to be disconnected. It then hinges at the toe so you can make a walking movement.
Now just having skis with funny bindings doesn't help you walk up hills, so you use 'skins'. These are strips of material almost like a carpet that hook on to the front of your skis and have a sticky back that keeps them temporarily glued to your ski's base.
The inspiration was seal skins – they can slide forwards on ice but don't slide backwards. This is the same idea.
So the fabric side has a pile, with all the little hairs pointing one way (backwards) so the skin can slide forwards but grips when you try to slide it back against the pile.
This allows the ski to keep moving forwards and not slide backwards when you walk, so you can go up hills. Once you get the hang of it you can move up the mountain considerably quicker than if you were to walk through the snow.
Not only is it very clever and very simple it's also a great work out – good way to work off last night's cheese fondue…
Once you arrive at your destination – or are too out of breath to keep going – you just take the skins off, put them in you bag and clip the heal part of the binding down again. And all of a sudden you're back on normal alpine skis ready for some powder.
And why is Verbier so good?
Verbier is great for touring and exploring the stunning mountains for a few reasons.
First of all the lifts take you to some amazing places – so just a short walk with skins you can get you miles away from the crowds on the slopes and immersed in nature in no time.
Verbier (and the 4 Valleys), are known as a bit of a Freeride Mecca – because not only is access really good, but the off-piste terrain here is amazing. Even if you are just taking the lifts and skiing down, there is a huge amount of off-piste to keep you entertained. Strap on some touring skis and you can get to some phenomenal places.
From rolling powder fields to steep couloirs, Verbier has everything.
But whilst the lift-accessed off-piste generally gets skied out quite quickly after a new snowfall, a bit of a walk opens up the untouched terrain long after fresh dump of snow.
So by putting the skins on, unclipping your heels, climbing up and leaving everyone else behind, you can find you some great, well-earned snow to ski.
Where do you head for?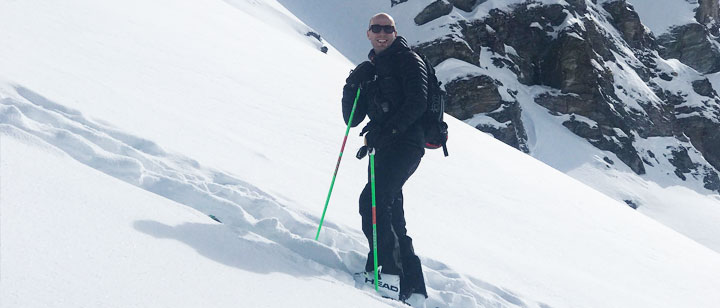 For some slightly more relaxed and fun areas go for Bruson! You can head towards Six Blanc and Tête de la Payanne – plus enjoy the views looking back over to the Verbier pistes whilst you are skiing through the perfectly spaced trees (with nobody around).
It's a great area to explore and get used to travelling outside of the ski area.
If your feeling slightly more adventurous you can head of the back Mont Fort towards the Rosa Blanche and further to the Igloo des Pantalons Blanc. There is a wealth of terrain to explore just beyond the ski lifts of the Verbier 4 Valleys.
What's the catch?
Well, all of this means you will be going further from the secured pistes and of course that means you are taking a risk.
So it's essential to take the appropriate off-piste safety gear, as you are your own responsibility once you go off the patrolled ski runs.
This should include a shovel, probe and transceiver at a bare minimum, as well as a first aid kit, at least two means of communication (like a phone and a radio) as well as clothing to cope if the weather changes.
You should also always have a map and always know where you are in the backcountry.
And the most important piece of equipment – knowledge.
To understand moving through the backcountry it's a vital to gain an understanding of the environment, the added risks, avalanche dangers and learn to navigate through the unmarked terrain. It's important to recognise the signs that there's danger ahead, and to have a really good understanding of what the weather has been doing – changes in wind and temperature can have a huge impact on the stability of slopes.
We certainly don't recommend you rent some touring skis and head of into the unknown.
Where do I start?
A good place to get started if you want to learn about off-piste and ski touring is an off-piste lesson or course with a ski school, or with one of the guide bureaus.
This will help in finding the best areas as well but more importantly give you the start of an education about what lies beyond the ski resort (both the dangers and the opportunities).
Crucially it will give you the confidence to start on these new adventure skills with someone who can pass on the necessary and invaluable knowledge.
So if you crave a sense of freedom and love an adventure then Verbier is the place for you, and ski touring might well turn into your next obsession…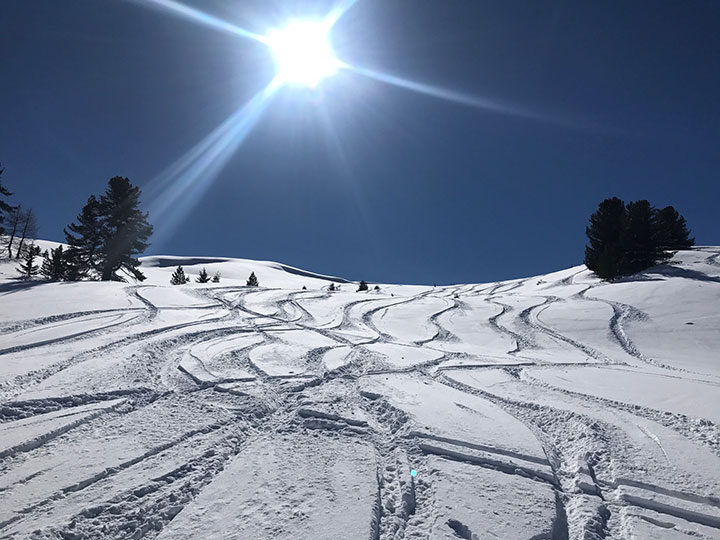 Why Verbier is great for ski touring