The time for spring ski touring has well and truly hit the Alps!
A lull in the resort has allowed for a little more spare time and the opportunity to explore the alps on the doorstep of Verbier. With the warm temperatures bringing a daily melt thaw snow cycle I thought it was time to crack on with a spot of touring.
We managed to get 4 solid days in and get our legs back and ready for for more.
First off the bat, Olly Norris suggested a trip over to Leukerbad to the Gemmi Pass at 2322m, so we made our way up the Wilstrubel (3244m) – rather quicker than anticipated! Our fitness levels were better than we thought…
On the descent we found some unexpected conditions over the Wildstrubelgletscher; light powder – not the spring snow we predicted. Miles ahead of schedule and after a brief stop to refuel at 12.30 a decision was made that it would be rude not to get a second peak in; the Steghorn (3146m). Again a swift ascent to the summit and a great ski back down on spring snow.
Reaching the Gemmi Pass at 3.30 exhausted, the self-service cafeteria was a welcome sight!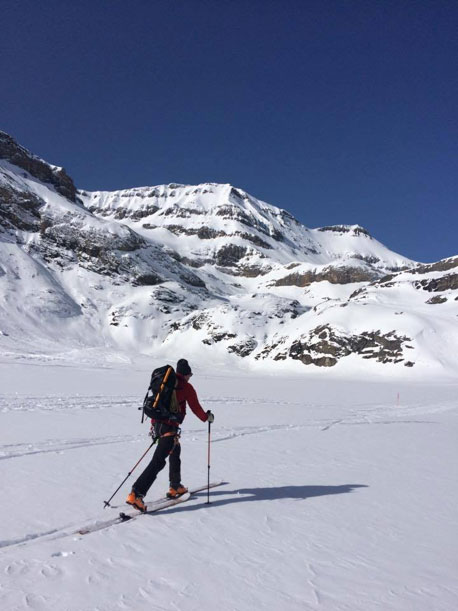 Day two of touring and another peak; Le Tarent (2548m) from l'Etivaz in the Alpes Vaudoises. We had a slightly more leisurely start and a day starting on skis straight from the car. Skins on and leaving the car as far we could drive beginning the ascent at 1200m. We took the morning a little slower to time the transformation of the snow. And the descent did not disappoint, perfect spring conditions for this one, which is what we expected!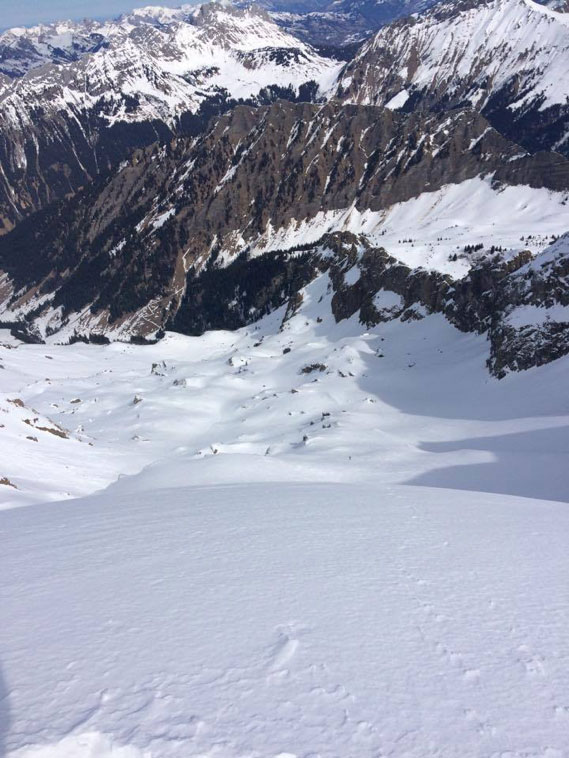 A few days later and another day off, Olly planned a slightly more ambitious day from the Col de la Forclaz up to the Aiguille du Tour at 3540 metres; a long day with more than 2000m of vertical gain. A peak which Olly has had his eye on for a while.
6 AM and the day began with a 3 km walk along the Bisse Trient-Combe; dark, icy and some jumping over trees. Skins were on and the climbing began at Chalet du Glacier, a technical skin up the Glacier de Berons, onto a traverse across the Glacier des Grands and a mixed climb up to the Aguille du Tour – 5 and a half hours later, numerous chocolate bars and litres of water consumed the summit was reached. The climb up to the peak in crampons and ice axe in hand provided a few hair raising moments with plenty of good views on either side. After a big climb the ski down was what we wanted – powdery snow at the top half and spring corn on the bottom, to a well-earned beer at the Hotel Du Col De La Forclaz.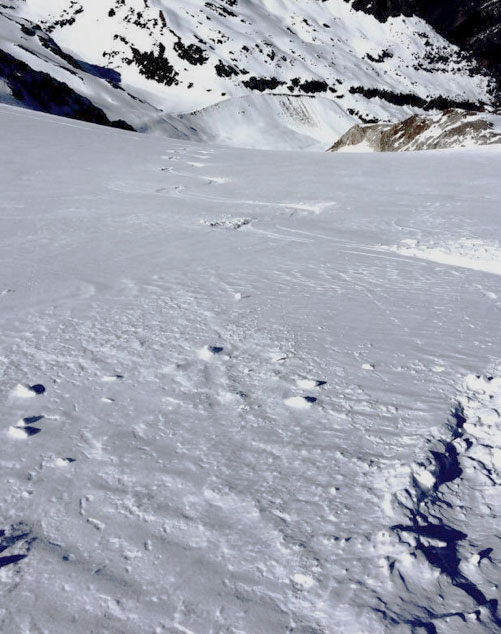 Day 4 of touring within a week and legs were feeling a little tired. Olly was working but David Roberts was on hand to fill in. We made our way over to Arolla and planned to head up to Pigne d'Arolla (3790m). However upon starting it became clear that this wasn't going to be possible. A foot of fresh snow and still falling, making for very poor visibility! Perhaps winter was re-emerging! A decision was made just to head to the Cabane des Vignettes (3160m) for lunch. After a big lunch (cheers Dave for paying) we made our way back and it was definitely not spring conditions; plenty of new snow made for some great turns on the way back. It looks like winter will go on for a bit longer, I'm still waiting for spring!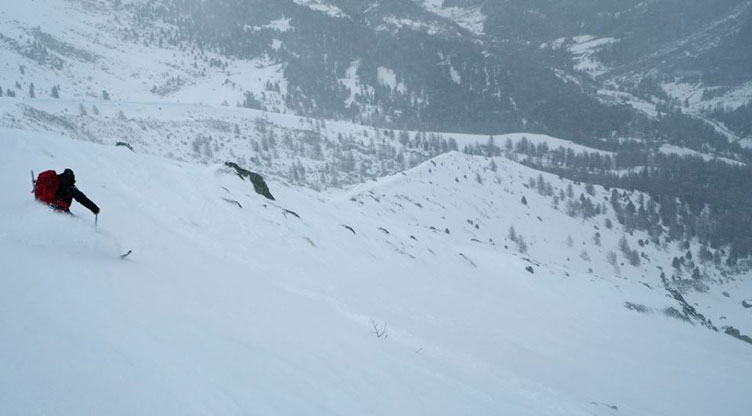 It's clear there is an absolute wealth of skiing just outside of Verbier which more often than not remains untouched; just a little work is required! Conditions are still exceptional over the Alps in the Valais region and it looks set to stay that way.
Can't thank Olly Norris enough for the first three days and David Roberts for the final one!
Thanks chaps!
Jack's spring touring adventure…