---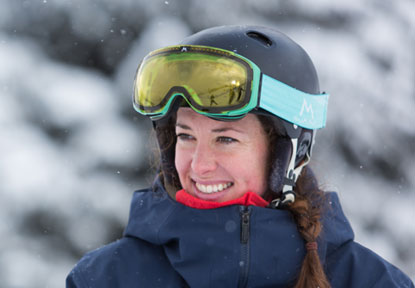 What should you train?

And how do you stay motivated?
Our Women's Camp coach Lottie looks at how to train this summer and how to be ready when the snow comes back to Verbier…

---

After a fun and snowy winter here in Verbier, summer is here. So time to think about getting out and working on your fitness.
There are some key fitness training elements you can build into any summer fitness plan to ensure you're ski fit by the time winter comes around again.
The key is to keep fitness training regular throughout the year, not just 'panic training' by building wall-sits into your daily routine at any opportunity in the last two weeks leading up to a ski trip!
In this blog I want to help shed some light on key areas to work on and ways to stay motivated.
---
What to train?
Basic components to work on for skiing are strength, agility, balance, flexibility, power, cardio and endurance which will help in all sports and improve your overall fitness.
It seems like a lot but don't worry there is a lot of overlap in these components with exercises.
This is extremely important for anyone planning a ski trip – but even more important for anyone an extended ski trip, regular skiing trips or doing a Peak Leaders Instructor training programme (which lasts up to 10 weeks).
To get the most out of your time on snow, to avoid injury and to ensure your recovery optimally, it's vital to build on your fitness during the summer.

---
How do you stay motivated?
I recently heard a quote which has stuck with me;
"You can't just fall in love with the outcome of results, you have to fall in love with the process too."
In order to stick to a plan it's key to find the sports/training methods you most enjoy that will help build on the components you are training.
So if, for example, you hate running, go for a hike instead but make sure there are some hills involved to raise the heart rate (cardio) and utilise the leg muscles (strength).
Perhaps swimming is your passion, then you can build in some intervals (cardio) and longer pool/lake sessions (endurance).

HIIT (High Intensity Interval Training) circuits are a great way to build on power, agility, cardio, balance and strength and there are so many options and different exercises to include within your circuits.
You can have cardio bodyweight focused routines and weighted strengthening routines, which both will work on the components listed above.
Cycling not only means you're outside enjoying the views and fresh air but again there are various sessions you can build into a programme, with short interval sprints (power and cardio), hill climbs (strength), flatter longer rides (endurance). It's good to cross train and mix up a few different sports and training sessions, not only for physical benefits but to stay excited and motivated to train!
Most importantly don't forget to build in core strengthening exercises, as with the examples listed above yes you will be using your core, but core strength is fundamental for skiing (those of you who've skied with us will know the importance we place on this, especially on our Women's Camps).
So any extra time spent on activating the deep inner core will help dramatically.
Lastly don't neglect a warm up and cool down, stretching is so vital for aiding recovery and preventing injury and if it's hard to motivate yourself then book into a yoga class.
Other motivational tactics include working out with a friend; having someone to be accountable to for workouts is a great way to stick to training sessions. It's fun, social, and also helps mix up training as you both can bring your own ideas to the session.
Let's not forget a good workout playlist either. Music and mood are inherently linked. Studies prove that the music we listen to engages a wide range of neurobiological systems that affect our psychology.
So pick music that elicits a specific emotional response in you, to dial up your mood and mindset.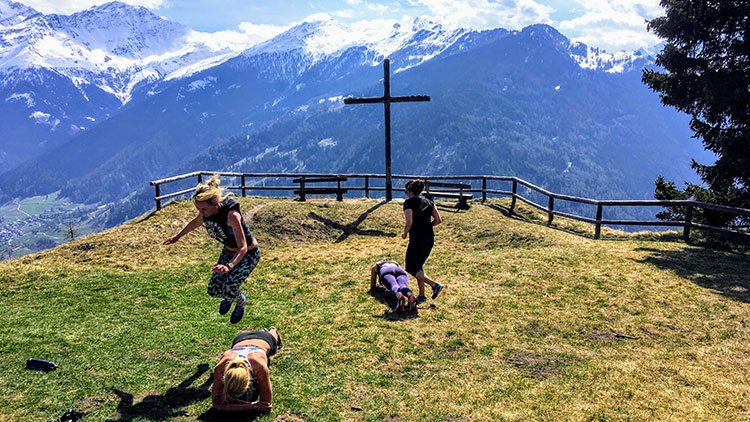 ---
Outdoor fitness training.
With any training session it's best done outdoors, working out in nature has so many benefits, and we tend to forget these and become confined to gyms.
Better yet if you can take your training into the mountains and make the Alps as much of a summer holiday destination as a winter one, I can promise you'll be blown away by the scenery and opportunities for fitness training. Verbier in particular is a fitness enthusiasts playground!
---
A little extra motivation…
To help you kick start your summer training element clicents can get 15% off fitness retreats in Verbier, Sardinia and Sri Lanka. Or even on a location of your choice if you want to arrange a private retreat.
Mountain Beach Fitness Retreats is a specialist company that I co-founded four years ago. The aim is to share this incredible environment with our clients, delivering and give them fitness training, through a structured and fun programme.
Our weeks allow you to focus exclusively on your own health, fitness and wellbeing, in incredible locations.
Structured, varied, and most importantly fun, fitness sessions are aimed at working the body as a whole and introducing you to new and innovative training techniques.
We test all aspects of fitness, allowing you to learn new skills in a safe and social environment. Sessions include: HIIT @2200m, high altitude hikes and trail runs, paddleboard core & balance, daily yoga, boxercise, strength & conditioning circuits, guided stretching and Par Cour Vits functional circuits through the forest.
All balanced with a healthy, nutritional menu designed and created by our private chef, using the freshest local ingredients and a beautiful, luxury chalet to relax and recharge in.
---
For more info including dates and prices please visit Lottie's website: mountainbeachfitnessretreats.com or contact lottie@mountainbeachfitnessretreats.com
---